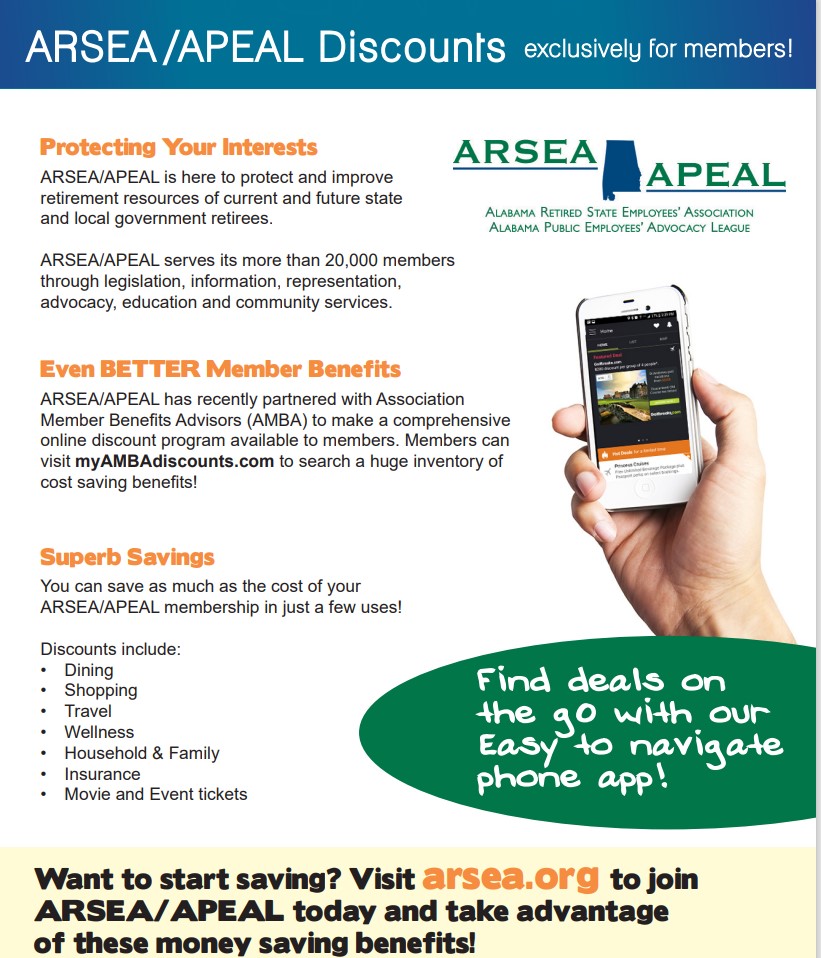 ADDITIONAL MEMBER DISCOUNTS THROUGH ASSOCIATION MEMBER BENEFITS ADVISORS:
Members can view more information by logging in Follow this link to see what is offered on the AMBA's Passport website and app. https://passportcorporate.com/Account/Login?vendor=111763 call our office for more information 334-834-9226 or go to https://www.myambabenefits.info/ to sign in.
Rental Car Discounts
Avis: 800.331.1212 | www.avis.com | Code: AWD# G725000
Budget: 800.527.0700 | www.budget.com | Code: (BCD) X925500
Cruise & Vacation Benefits
You will receive a 4% vacation reward on the base fare of your trip & will also have access to special bonus offers on a monthly basis.
855.577.9497 |
www.cruiseandvacationbenefits.com/AMBA
Orlando Employee Discounts
Save up to 35% on Your Orlando Vacation!
866.391.6840 | www.orlandoemployeediscounts.com |
Code: AMBA
Nationwide Pet Insurance
Get a 5% discount on new pet insurance policies:
www.petinsurance.com/amba
Road Scholar
First-time Road Scholar participants are eligible for either a $200 gift certificate good toward any international adventure or a $75 gift certificate good for any North American Adventure.
www.roadscholar.org/AMBA
myAMBAdining.com
Powered by restaurants.com, myAMBAdining.com offers members discounts at over 18,000 restaurants nationwide. When members use this discount they get the best deal for every meal!
www.myAMBAdining.com
Computer Discounts
Apple: 1-800-MY-APPLE | Code: AMBA
http://store.apple.com/us/go/eppstore/amba
Dell: 866.257.4711 | www.Dell.com/mpp/amba |
Code: GS530005355936
(Not all products are eligible)
Trip Beat
Vacation Rental Worldwide to save up to 40% on weekly vacation stays at only $399 a week. Call 844.367.6433 and mention Passport to learn more.

Some benefits not available in all states. Association membership required to obtain benefits.
Some associations have made a special benefits website available to their members.
Register at myAMBAbenefits.info.